Nate and I were honestly shocked this morning to find out that we could, indeed, conceive a member of the male sex. But it's true! We now know that we are having a little boy. And let me tell you, there was no mistaking. That little part was fully in view. We are so excited to enter the world of boy-hood!!
Except...boy names. They are rough! We have all KINDS of fun girl names picked out. But boy ones are more difficult for us. But that will be part of the dreaming fun. I checked out two name books from the library on the way home!
I think all the anticipation of learning about our next family member has put me in a celebratory mood. Or at least....I've just been wanting to eat some good food. Nothing too out of the ordinary there. :) I must say, the last two nights, we have had some fine dining. I had a difficult time stopping. Eating, that is. One familiar recipe, and the others, new. I must be on a kale kick? Because both meals called for kale.
I am serious, these were good meals. I think Thursday's may have been my favorite in the last year. Or since I can remember. Basically, it topped bierocks, which is saying something in this house.
Since I found most recipes online, I will just link you there. The other, I will share.
Yum.
Yum.
Wednesday Night:
Swedish Meatballs, Sweet Potatoes with Kale, warm bread from the bread machine.
Swedish Meatballs:
1 lb. ground beef
1 lb. ground pork
2 eggs
1 c. milk
handful or two of bread crumbs
1/2 t. pepper
2 t. seasoned salt
1/4 t. nutmeg
onion powder, to taste
Mix thoroughly. Shape into several balls and fry in hot fat (I used lard - it's good for you, really), turning to brown on all sides. Do not overcook. Drain most of the grease, keeping a little. Set meatballs aside. For the gravy: To the small amount of fat, add 2-3 T. of flour and stir. Add in 1 1/2 c. beef stock and heat to make gravy. Return meatballs to pan. Serve.
And the
bread
recipe, I have posted
HERE
.
Thursday night, with a bunch of fun K-State students:
Kale and Sausage Soup, Italian Bread with Dipping Sauce, and Salad with Vinaigrette
I did change some things here. I used regular bulk sausage and just added Italian seasoning.
I left out onions and added onion powder. I used less water, and more broth, for more flavor.
I added extra potatoes and kale.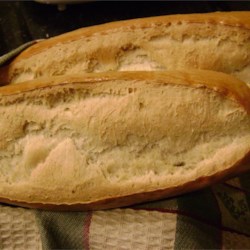 This was the biggest surprise...how good it was. We dipped it in a combo of olive oil, parmesan, garlic, salt, and pepper. Superb.
Ended with a pan of Scotcheroos. Like I said, fine dining. :)
I am excited for leftovers tonight.